Tropical Storm Isaac neared hurricane strength Monday night, closing on the Gulf Coast with a projected landfall a day short of the seventh anniversary of the devastating Hurricane Katrina.
Isaac was forecast to strike land south of New Orleans on Tuesday night, perhaps as a Category 1 hurricane with top winds of about 90 mph. The Katina anniversary was leaving much of the Gulf Coast with "a high level of anxiety," as New Orleans Mayor Mitch Landrieu put it Monday.
Residents of low-lying coastal areas from the Florida Panhandle to southeastern Louisiana were ordered to evacuate ahead of storm surges and heavy rain, while Landrieu acknowledged his own jitters due to the coincidence.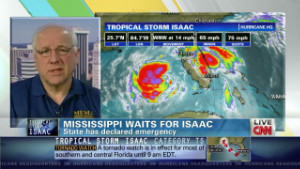 Isaac is expected to be weaker than Katrina, which came ashore as a Category 3 hurricane with 125-mph winds. But New Orleans could start to feel tropical storm force winds by midnight Monday, and while Isaac may veer off its currently projected course, "It seems to be settling into a pathway and a speed that is becoming predictable," Landrieu said.
"It is quite ironic that we have a hurricane threatening us on the seventh anniversary of Katrina," he said. But he added that as of Monday afternoon, "There is nothing this storm will bring us that we are not capable of handling."
Most of Katrina's nearly 1,800 deaths occurred when the protective levees around New Orleans failed, flooding the city. But Landrieu said the levees have had $10 billion in improvements since 2005, and the city's pump stations have backup generators ready in case of electrical outages.
One of those stations is the biggest in the world and some can move as much as 150,000 gallons per second.
"This is the best system that the greater New Orleans area has ever seen," Col. Ed Fleming of the Army Corps of Engineers said.
Preparing for Isaac, state by state
Isaac faltered a bit in the Gulf of Mexico as an eye wall that had been forming appeared to break up Monday afternoon, slowing its development, National Hurricane Center Deputy Director Ed Rappaport told CNN. As of 11 p.m. ET, its top winds remained 70 mph -- just under hurricane strength -- and it was expected to become a hurricane "Monday night or early Tuesday," the Miami-based hurricane center reported.
Isaac was centered about 190 miles (305 kilometers) southeast of the mouth of the Mississippi River, and it was moving to the northwest at 10 mph.
But tropical-storm-force winds extended more than 200 miles from the center, and hurricane warnings stretched from Morgan City, Louisiana, to the Alabama-Florida border. Tropical storm warnings extended eastward to Destin, Florida, and westward from Morgan City to Intracoastal City, Louisiana, about 150 miles west of New Orleans.
There was also the potential for a lot of rain, as much as 18 inches in a few areas of Alabama, Louisiana and Mississippi, the hurricane center said.
As the storm heads north, its rain would benefit some drought-ravaged states like Arkansas, Illinois, Indiana and Missouri.
Landrieu has not ordered an evacuation of his city, most of which is below sea level and protected by a network of levees. But he said he would "strongly urge" about 900 people who live outside the levee system to leave -- and if anyone else is thinking about getting out, "now would be a good time to go."