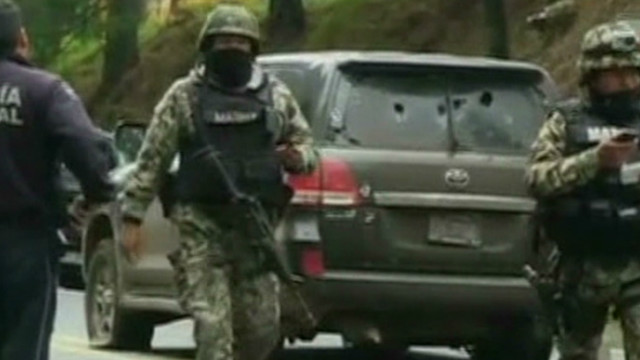 A Mexican judge has ordered the detention of 12 federal police officers accused of opening fire on a U.S. diplomatic vehicle south of the capital last week.
Under the judge's order, the officers will be held for 30 days, Jose Luis Manjarrez, a spokesman for the Mexican Attorney-General's Office, said Monday. They will be transferred to Mexico City from the state of Morelos, where they are being held, he said.
The 12 officers are under investigation in relation to five charges, including attempted murder, according to one of their lawyers, Marco Aurelio Gonzalez.
Following the shooting incident Friday, two U.S. Embassy employees, described by a senior U.S. government official as U.S. citizens, were taken to a hospital with nonlife-threatening wounds. A member of the Mexican Navy who was with them in the vehicle suffered light bruises, according to a statement from the Mexican Navy.