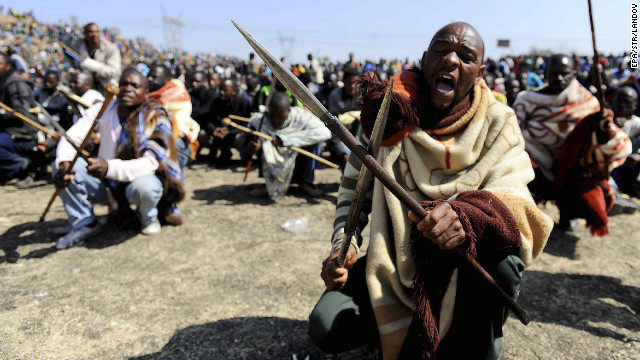 Police opened fire to disperse thousands of machete-wielding workers taking part in a strike at a South African mine, killing more than 30, authorities said Friday.
South African police said more than 30 people died in the attack Thursday. The National Union of Mineworkers gave the number at 36.
The violence erupted when police shot at striking workers from competing unions armed with machetes and spears. The workers have gathered for a week to demand higher salaries in a dispute intensified by tensions between rival trade unions.
Before Thursday, at least 10 other people, including two police officers, had been hacked to death in the violence, according to mine owners Lonmin, the world's third-largest platinum producer.
"We are shocked and dismayed at this senseless violence," President Jacob Zuma said. "We believe there is enough space in our democratic order for any dispute to be resolved through dialogue without any breaches of the law or violence."
Witnesses described the scene Thursday as chaotic, making it impossible to determine who started firing on whom first.
After the gunfire erupted, blood-stained bodies lay strewn all over a field in a police response reminiscent of the ugly days of apartheid rule, which ended in 1994.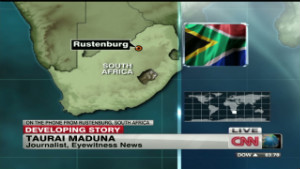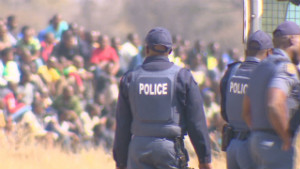 South African police said its members fired when the "heavily armed group of illegal gatherers at Lonmin mine" ignored orders to disperse and fired back.
They attacked police using various weapons, the agency said in a statement.
"The police, in order to protect their own lives and in self defense, were forced to engage the group with force," the statement said.
Production at the world's third-largest platinum producer came to a halt as workers, mostly rock drillers, went on strike August 10 over a wage dispute. The miners, who earn between $300 and $500 a month, are demanding up to $1,500 a month.
Before Thursday's bloodshed, the company had issued an ultimatum to the striking workers to return to work by Friday or face dismissal.
The violence is the latest mine attacks in the nation this year.
In January, at least three people were killed during a six-week strike at the world's second-largest platinum mine, Impala Platinum.
In that incident, the violence was also blamed on union rivalry. The two implicated unions accused of trying to outdo each other in negotiating wages denied instigating the clashes.