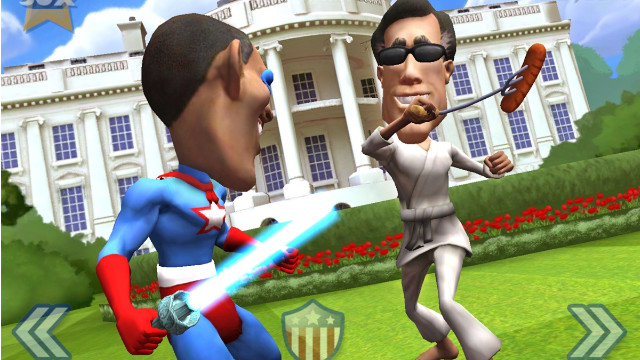 They call politics a blood sport, a battle royale, a bare-knuckle brawl.
But why use bare knuckles when you can smack your presidential rival with a microphone, light saber or red, white and blue Popsicle?
A new video game for iPad, iPhone and other Apple devices lets players do just that, with the help of President Barack Obama or rival Mitt Romney.
"Vote!!!" comes from Epic Games' Chair Entertainment, best known for revolutionizing the mobile gaming space with its console-style "Infinity Blade" franchise.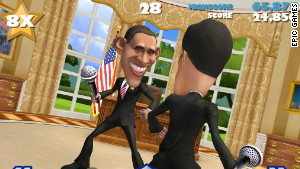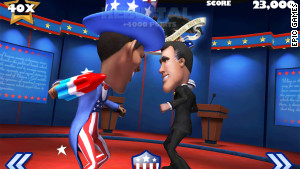 Infinity Blade" games have generated nearly $50 million in revenue since launching in December 2010.
"Vote!!!" allows political junkies (and gamers alike) to pick a stylized cartoonish version of their preferred presidential candidate and then duke it out through multiple rounds. The game focuses on arcade-style fighting and encourages players to keep on swinging for more votes.
The game includes three 75-second rounds. The fight starts at a national debate and then moves to the White House lawn and concludes in the Oval Office. Before each round, players can customize their Democratic or Republican candidate with an outfit, a weapon and an accessory. In keeping with the humorous tone, everything about this game is over the top.
"We have some great outfits like an Uncle Sam costume, Apollo Creed-like boxing shorts, a super hero get-up and even '70s disco duds," said Donald Mustard, creative director and co-founder of Chair Entertainment. "Weapons are also on the fun side with things like an ice cream cone, a rocket pop, a Fourth of July sparkler and a Saber of Liberty, which is the handle of the Statue of Liberty with a light saber coming out.
"My favorite is the microphone, because when you hit your opponent with it, there's a feedback sound. Accessories include things like sunglasses, an eye patch, a baseball hat, a clown nose, an old powdered wig and a big, handlebar mustache."
As political pundits know all too well, the road to the White House is a long and arduous fight. This arcade game replicates that campaign by going "old school" and focusing on earning high scores with these bouts. Players are fighting for points, which, in turn, unlock votes. The votes come in tiers, so players earn one vote for a score of more than 10,000 points in a round, two votes for a score of more than 75,000 points in a round, and three votes by topping 250,000 points in a round.