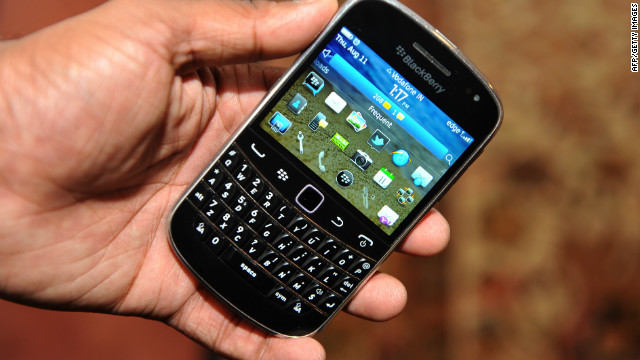 Research In Motion has begun manufacturing "beta" or test units of its next generation BlackBerry 10 devices, signalling that the Canadian manufacturer of the BlackBerry family of smartphones is on track to begin sales of the new handsets early next year.
RIM plans to increase production of two new handsets -- a full touchscreen-based device and a hybrid device with both a touch screen and a mini-Qwerty keyboard -- over the next few months in preparation for a global launch in the first quarter of next year.
"BlackBerry 10 is for real, the hardware is there and the software is there," said Thorsten Heins, RIM's chief executive, during a briefing with the Financial Times in New York.
Mr Heins, who described the hardware as finished and the new software as "almost complete", confirmed that RIM will seek to license the BB10 software platform to others but re-emphasised that the company's top priority remains the successful launch of BB10.
The Waterloo, Ontario-based company has yet to announce the names of the two new BB10 devices, which will both be capable of operating on the latest 4G mobile broadband data networks being rolled out by network operators in the US and elsewhere, using LTE technology.
Report: Next iPhone goes on sale September 21
The new handsets will aim to change the way people use smartphones by exploiting the multitasking capabilities of the new hardware and software and threading together applications rather than requiring users to stop using one app in order to open up another.
This capability, which RIM has dubbed "BlackBerry Flow", enables users to peek at, or switch between, apps with a simple thumb swipe. The company claims that this will not only make it easier to use the new handsets and reduce the time wasted switching between apps, but that it will also help the company differentiate BB10 smartphones from the competition. This includes Apple's iPhone and devices built using Google's Android operating system.
While engineers are still tweaking the BlackBerry 10 software, the company has confirmed that it has completed integration of the main core of the BB10 software, overcoming earlier delays.
Integrating BlackBerry features into the QNX operating system that RIM acquired and which forms the basis of BB10 was a task that had proved more complex and time consuming than initially expected.
As a result, Mr Heins in June decided to delay the BB10 launch from the fourth quarter of this year -- a move that led to a further steep decline in RIM's share price and prompted a flurry of takeover rumours which have since proved unfounded.
Mr Heins, who took over as chief executive in January, is betting on the new handsets and operating system to help turnround the company's flagging financial performance and restore confidence among investors, customers and mobile network operators.
RIM's board has appointed two investment banks to help the company examine "all its strategic options" but Mr Heins emphasises that his main focus is that the BB10 provides the company with a new base for growth.
In particular, RIM, which is likely to produce a more limited range of smartphones in future, is keen to use BB10 to expand into new markets, for example the automotive sector where QNX has a strong base.