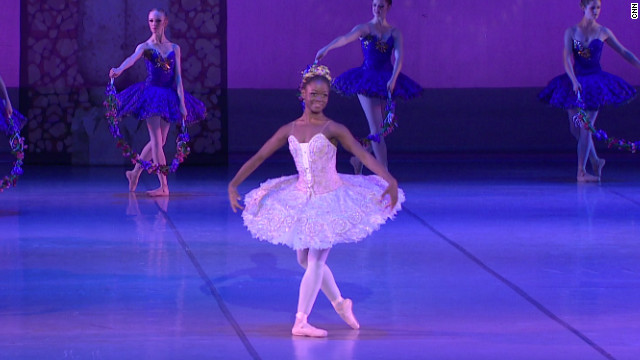 Professional ballet dancer Michaela DePrince was just three years old when she saw a ballerina for the first time.
She was standing near the gate of the orphanage she was living in the West African country of Sierra Leone when she found a magazine with a female ballet dancer on the cover.
The image of the beautiful, smiling ballerina mesmerized the young orphan, who had just lost both of her parents.
"I was just so fascinated by this person, by how beautiful she was, how she was wearing such a beautiful costume," she remembers. "So I ripped the cover off and I put it in my underwear."
At the time, DePrince -- or Mabinty Bangura as she was then called -- had no idea what ballet was. But she kept onto the picture, dreaming of one day becoming as happy as the ballerina on the magazine cover.
"It represented freedom, it represented hope, it represented trying to live a little longer," she recalls. "I was so upset in the orphanage, I have no idea how I got through it but seeing that, it completely saved me."
Shortly after, DePrince was adopted by an American couple and began a new life in the United States. Today, at the age of 17, she is one of the ballet world's rising stars -- last month she traveled to South Africa to make her professional debut in Johannesburg.
"I worked very hard and I was on point by the time I was seven years old," says DePrince. "I just moved along fast because I was so determined to be like that person on the magazine and she was what drove me to become a better dancer, a better person -- to be just like her was what I wanted to be."
Read related: Sierra Leone 'will become aid donor in next 50 years'
Tens of thousands of people died during Sierra Leone's brutal civil war from 1991 to 2002. The horrors of the decade-long conflict defined DePrince's early memories: Her father was murdered by rebels while her mother starved to death shortly after.
One of her uncles took her to an orphanage hoping she'd be adopted and taken to a safer place.
But life in the orphanage was tough for the three-year-old girl.
She remembers being called "the devil's child" and being ill-treated by the orphanage's carers because she had vitiligo -- a skin condition that causes blotches of lightening skin. Children in the orphanage were given numbers ranking them from the most favored to the least -- DePrince was ranked 27th out of 27 children.
"I didn't get enough food, I didn't get the best clothes, I got the last choice of toys," she says. "I was in the back and they didn't really care if I died or whatever happened to me."
Hopelessness and despair engulfed DePrince even further when she witnessed the murder of one of her teachers at the orphanage, a pregnant woman "who was the only person who actually took time to care for me," she says.