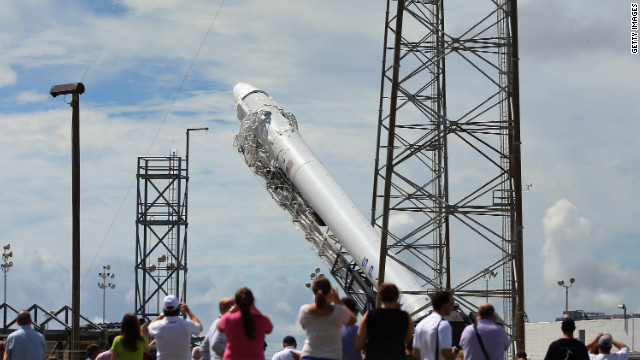 The SpaceX rocket, the first commercial flight to the International Space Station, lifted off Sunday night carrying an unmanned cargo capsule.
The Falcon 9 rocket with its Dragon capsule launched on schedule at 8:35 p.m. ET from Cape Canaveral, Florida, with an orange blaze against the black night sky. About 10 minutes into the flight, the Dragon separated from the rocket and was on its way to the station.
Mission control called it "a picture-perfect launch and a flawless flight of Falcon."
It is is the first of a dozen NASA-contracted flights to resupply the International Space Station, at a total cost of $1.6 billion.
The launch comes nearly five months after a demonstration mission in which a Dragon capsule successfully berthed at the station and returned to Earth. SpaceX President Gwynne Shotwell said the Sunday mission isn't "substantially different" from that flight, "with the exception that we got there once."
"We demonstrated we could do it, so there might be a teeny, teeny bit of relaxation," Shotwell told reporters Saturday ahead of the launch. "Not a lot, though."