-->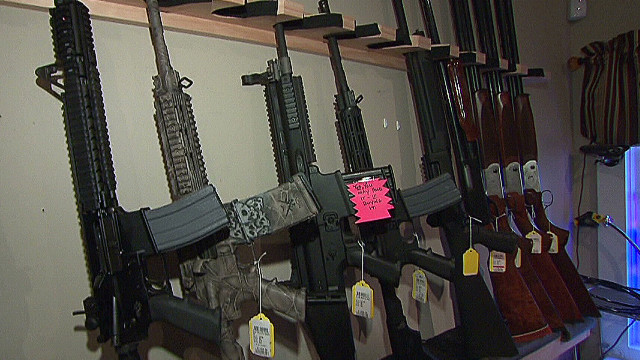 Adam Lanza brought three weapons inside Sandy Hook Elementary school on December 14 and left a fourth in his car, police said. Those weapons were a Bushmaster AR-15 rifle and two handguns -- a Glock 10 mm and a Sig Sauer 9 mm.
In the car he left a shotgun, about which police have offered no details. Lanza used one of the handguns to take his own life, although police haven't said whether the gun was the Glock or the Sig Sauer.
In fact many details remain unknown about the weapons Lanza used that day to kill 20 children, his own mother, six other adults and then himself. Here's what is known so far:
Bushmaster AR-15 rifle
The primary weapon used in the attack was a "Bushmaster AR-15 assault-type weapon," said Connecticut State Police Lt. Paul Vance. The rifle is a Bushmaster version of a widely made AR-15, the civilian version of the M-16 rifle used by the U.S. military. The original M-16 patent ran out years ago, and now the AR-15 is manufactured by several gunmakers. Unlike the military version, the AR-15 is a semiautomatic, firing one bullet per squeeze of the trigger. But like the M-16, ammunition is loaded through a magazine. In the school shooting, police say Lanza's rifle used numerous 30-round magazines.
An AR-15 is usually capable of firing a rate of 45 rounds per minute in semiautomatic mode.
Police didn't offer details about the specific model of the rifle Lanza used. A typical Bushmaster rifle, such as the M4 model, comes with a 30-round magazine but can use magazines of various capacities from five to 40 rounds. An M4 weighs about 6 ½ pounds and retails for about $1,300.
Under the 1994 federal ban on such weapons, buying some variants of new AR-15s was against the law. The ban expired in 2004.
Bushmaster is the No. 1 supplier of AR-15 rifles in the United States, according to the company website.
Their weapons are used by more than 100 police departments and by the militaries of 50 nations, according to Bushmaster. Private citizens use them for "hunting, recreation, competition and home defense and security," the website says.
-->