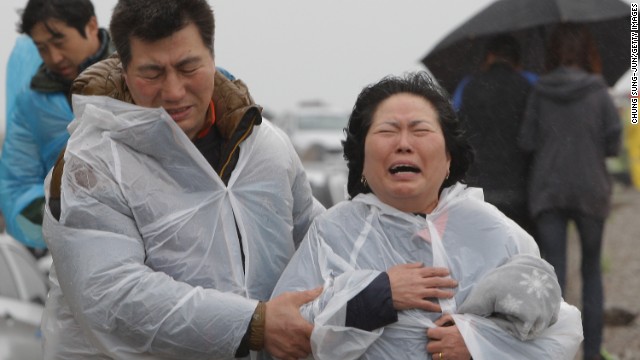 The high school vice principal who was rescued from the sunken South Korean ferry was found hanging from a tree, police said Friday.
Kang Min Kyu, 52, was on board the ferry along with more than 300 students from Ansan Danwon High School. He was among the first survivors to be rescued.
Police said he apparently hanged himself with a belt from a tree near a gymnasium in Jindo, where distraught relatives of missing passengers have been camping out.
It's the latest tragic turn after the ferry's sinking, which remains unexplained.
The death toll from Wednesday's disaster rose to 28 on Friday as divers raced to reach the hundreds of people still believed to be inside ship.
Divers breached the hull of a sunken ferry Friday, and two managed to enter the second deck -- the cargo deck, the South Korean Coast Guard said. But rough waters forced them back out again. They didn't find any bodies in their brief search.
"The guide line that links the sunken ship and the rescue vessel has been cut off," the Coast Guard said. "Still, the entrance into the ship is open, and we plan to resume operation to enter the ship."
It's a race against time.
Hopes of finding the roughly 270 people still missing dimmed further when the entire boat became submerged underwater Friday. Until then, part of the ship's blue-and-white hull was still poking out of the frigid waters of the Yellow Sea.
On top of that, divers must contend with fierce winds and rough waters.
"There are heavy currents in the area. So the vessel itself is not stable in the water. So you are, by default, putting divers at risk," U.S. Navy Capt. Heidi Agle told CNN's Wolf Blitzer. The U.S. Navy is assisting with the South Korean search.
The cause of the accident still isn't known. But a Korean prosecutor said the captain wasn't in the steering room when the ship started to sink; a third mate was at the helm.
"It is not clear where (the captain) was when the accident occurred, although it is clear that he was not in the steering room before the actual accident happened," state prosecutor Jae-Eok Park said Friday.
The captain, Lee Joon Suk, was one of at least 179 people rescued soon after Wednesday's sinking. As of Friday morning, 271 people remained missing, the Coast Guard said.
Seaborne cranes called in
Anger and disgust
Relatives of passengers expressed increasing disgust and anger over the lack of explanation from the captain and the pace of the rescue effort.
Some have waited for days in the cold rain at a harbor in Jindo, about 20 kilometers (12 miles) from the sunken boat.
Others camped out a nearby gymnasium and auditorium, desperate to hear any news of their loved ones. Relatives overcome with emotion howled and screamed, but to no avail.