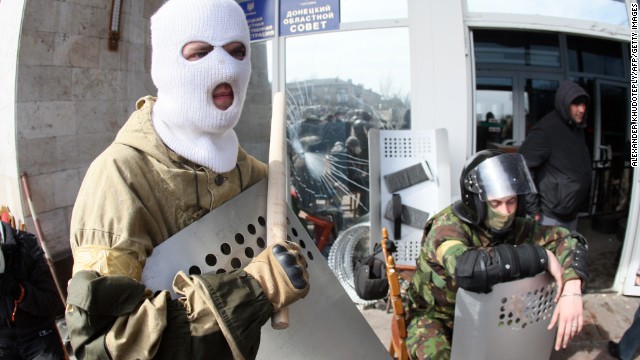 Russia's Foreign Ministry warned Kiev on Tuesday that any use of force in Ukraine's eastern region could lead to civil war, as Ukraine's government seeks to regain control after pro-Moscow uprisings in three cities.
Pro-Russian protesters seized government buildings in the three cities of Donetsk, Luhansk and Kharkiv on Sunday. Rebels occupying Donetsk's regional government building Monday declared a "people's republic" and called for a referendum on secession from Ukraine to be held by May 11.
Russia's Foreign Ministry said reports that the protesters, including those in Donetsk, are facing a crackdown by Ukrainian authorities are of particular concern.
"We are calling for the immediate cessation of any military preparations, which could lead to civil war," it said in a statement on its official website.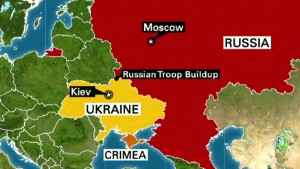 The ministry alleged that what it called "American experts from the private military organization Greystone," disguised as soldiers, as well as militants from the Ukrainian far-right group Right Sector, had joined Ukrainian forces preparing for the crackdown in the country's east.
Late Monday, Ukrainian special forces cleared armed protesters from the headquarters of Ukrainian security services in Donetsk, acting President Oleksandr Turchynov's office announced Monday night.
But Ukraine's interim Deputy Prime Minister Vitaly Yarema was quoted by Russian state-run news agency ITAR-Tass as saying Tuesday that the authorities are not going to storm the city's regional administration building.
Yarema said the decision was made after talks with representatives of the protesters in the building.
A CNN team on the ground said that pro-Russian protesters appear still to be in control of the building and that there is no sign of special forces nearby.
According to the deputy head of the National Security and Defense Council, Victoria Syumar, negotiations are under way between the protesters and police, coordinated by influential oligarch Rinat Ahmetov.
Donetsk is the hometown of ousted Ukrainian President Viktor Yanukovych, whose pro-Russian government was toppled in a popular revolt in February.
'Anti-terrorist operation'
Meanwhile, a spokeswoman for acting Ukrainian Interior Minister Arsen Avakov said an anti-terrorist operation in Kharkiv had ended with the arrest of about 70 people.
Special forces police from outside of Kharkiv carried out the operation, in which all those arrested were armed with knives or batons, spokeswoman Natalia Stativko said.
They have been taken to police detention centers in the cities of Poltava and Zaporijya and face charges relating to separatism, violence and taking part in mass protests, she said.
Earlier, in a Facebook message, Avakov said the center of the city had been closed to the public and urged people to remain calm. No guns were fired, he said.
In Luhansk, pro-Russian demonstrators remain inside the Security Services Building, Syumar said. They are armed, having gained access to a weapons storage area at the site Sunday. Ukraine road police are manning checkpoints on roads going to Luhansk.
On Monday, Turchynov blamed "separatist groups coordinated by Russian special services" for the revolts, which he said echoed events leading to the Russian annexation of Crimea three weeks ago.