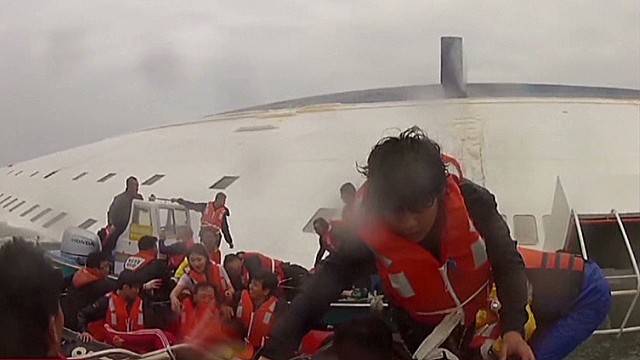 With difficult weather conditions conspiring against rescue efforts and frustrated, angry relatives accosting officials at Jindo port, chances of finding survivors from the Sewol ferry that unexpectedly sank Wednesday are decreasing with each passing hour.
On Friday, the South Korean Coast Guard said workers continued to pump air into the hull of the submerged ship, but could not arrest its descent. This provoked theories any remaining air pockets in the vessel had disappeared.
Rescuers said there is still a slim hope of finding survivors even though the bow finally slipped beneath the water surface Friday morning.
Rescuers are turning to heavy engineering solutions to aid the hundreds of divers attempting to access the wreck and the potential hundreds of passengers trapped within.