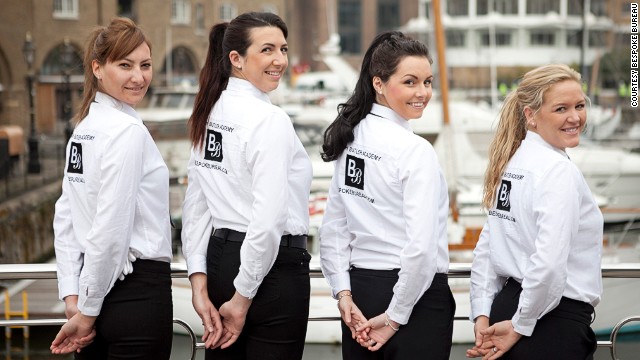 "Banish it from your vocabulary," wide-eyed recruits are told. Because when money is no object, neither is the extent staff are expected to go in satisfying their master's most extravagant desires.
The financial titans of the world don't just require service par excellence -- they demand superheroes at their beck and call.
People willing to swim in jellyfish-infested water, survive on four hours sleep a night, and accept every criticism with not so much as a raised eyebrow.
Observant stewards must become instant experts on their wealthy boss's favorite meals, music tastes, heavens above even their bowel movements.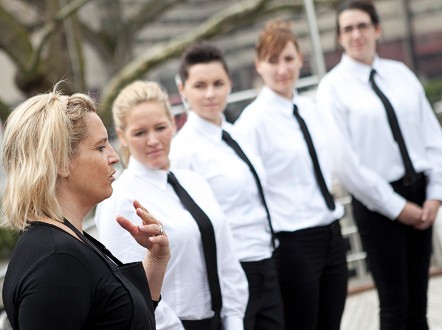 And if these foot soldiers of hospitality don't make the grueling regime look easy -- or keep quiet about the high profile lives on board -- then they're out of a job paying anything from $1,000 to $6,000 a week.
Super students
Is it worth it? The four girls training to become superyacht stewardesses, in London's stylish St Katherine's Docks, seem to think so.
They're on day three of a five-day training course, the only one of its kind in Britain, and one they have paid $2,500 to join.
And what better place to learn how to serve their future masters, than on a 30-meter luxury vessel called "Absolute Pleasure" -- their home and floating classroom for the week.
Emerging from their downstairs cabins just after 8am, the young women sleepily tuck in white shirts and adjust black ties before plunging into the morning's domestic duties. They prepare a continental breakfast with enough silverware to sink a battleship.
Many pad around the plush carpeted vessel in socks, taking pointers from butler Robert, superyacht stewardess Titta, and private jet hostess Annika.
This trio are the land, sea, and air captains of high-end hospitality.
"The superheroes of service?" I suggest. "Yes," says Annika politely, an immaculately presented Finnish woman, who has worked on private jets for over a decade.
The greatest superpower of all is adaptability, she says. "If they ask you to bring the moon in the sky to them, then you work out a way to do it."
Money talks
With a superyacht costing anything between $30 million and $100 million, you can safely bet that if you're wealthy enough to own one, you're wealthy enough to make extreme demands on your staff.
"We are talking about the ultra rich -- Russian oligarchs, Arab sheiks, oil gurus," says Sara Vestin Rahmani, founder of Bespoke Bureau, a high-end domestic staff recruitment agency running the superyacht training course.
"People who own a superyacht are the elite of the elite. The yacht is where they come to entertain, it's where they want to show off, it needs to be perfect. And that's what we're teaching them here -- perfection."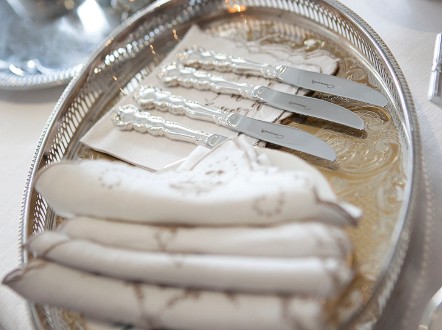 Not just perfect service -- but perfect silence about life on board." Confidentiality is very important," says butler Rob, whose past bosses include royal family members. Unsurprisingly, he won't divulge who.
"They're not just paying for you to do your job -- they're paying for your integrity as well. Unfortunately it's not like a tabloid newspaper's 'kiss and tell.' Once you lose their trust, you lose your job."