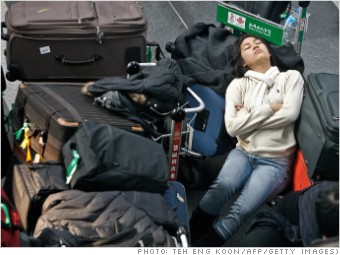 Flying in China? Prepare for lengthy airport delays.
The country's largest airports, serving the mega-cities of Shanghai and Beijing, suffer more flights delays than almost anywhere else in the world.
In June 2013, only 18% of flights made their departure times at Beijing Capital International Airport, according to data from FlightStats.
Shanghai was little improved, logging an on-time departure rate of 29%. A whopping 34% of flights were delayed by more than 45 minutes, while 3% were canceled outright.
While June was a particularly bad month, frequent China travelers have learned to build huge blocks of time into their schedules to account for potential delays.
A variety of factors contribute to the trend, including overly cautious air traffic control and airspace restrictions for civilian aircraft. It's a problem that has caught the attention of Beijing.
There are signs that progress is being made. In the final month of last year, 43% of flights left Shanghai on time, while Beijing's rate improved to 56%. Official statistics, widely thought to be massaged, also show improvement.