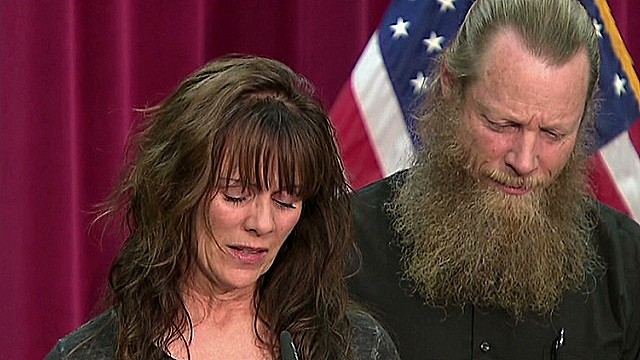 The parents of Army Sgt. Bowe Bergdahl want the world to know they're beyond grateful their son has been released from Afghanistan after five years in captivity, but the battle is far from over.
"The recovery and reintegration of Bowe Bergdahl is a work in progress," Bob Bergdahl told reporters Sunday in Boise, Idaho, just one day after his son was set free.
"It isn't over for us. In many ways. It's just beginning for Jani, and I, and our family. There's a long process here," he said, referring to his wife, Bowe's mother.
Both parents addressed their son, telling him how proud they are of him. They have not yet spoken to him directly.
"There's a reason for that, and that's because Bowe has been gone so long that it's going to be very difficult to come back," said Bob Bergdahl.
He compared his son's situation to that of a diver going deep on a dive: "If he comes up too fast, it could kill him."
Bergdahl is hospitalized in Germany, where his mother said there is a team of people in place to assist him.
"Trust them. It's OK, and give yourself all of the time you need to recover and decompress," Jani Bergdahl said to her son. "There is no hurry. You have your life ahead of you."
She continued: "You've made it ... You are free."
Worsening health
Bergdahl, the last American soldier held captive from the Iraq and Afghanistan conflicts, is on a long journey home after being freed in exchange for five Taliban detainees who had been held at the U.S. military prison in Guantanamo Bay, Cuba.
Believing that his health was deteriorating, the United States acted quickly to save his life after years of work to free him from being a prisoner of war, Defense Secretary Chuck Hagel said Sunday.
"It was our judgment that if we could find an opening and move very quickly with that opening, that we needed to get him out of there essentially to save his life," Hagel said. "I know President Obama feels very strongly about that, I do as well."
Bergdahl arrived Sunday morning at Landstuhl Regional Medical Center in Germany, a U.S. Defense official said.
There was no word on Bergdahl's condition. He was last seen in a video obtained by the U.S. military in January and appeared in diminished health.
National Security Adviser Susan Rice said Sunday that the move to free him came after the United States learned his health was deteriorating in captivity.
"He had lost ... a good bit of weight. And we were very concerned that time was not ... something we could play with, that we needed to act when we had the opportunity," Rice told CNN's "State of the Union With Candy Crowley."
Bergdahl's father told reporters his son had "passed through all the checkpoints with flying colors."
Hometown celebrates
On Sunday, people in Bergdahl's hometown of Hailey, Idaho, cheered the news and looked forward to the day he might return.
Yellow ribbons were tied on trees in his honor.
"I think as a community we had our ups and downs, as did the rest of the country. There were times where we wondered, but Jani and Bob Bergdahl never once gave up faith that their son was coming home to them," said Stefanie O'Neill, a family friend.
"They knew. It was never if Bowe comes home -- it was when Bowe comes home," she said.
Five years detained and many questions remain
U.S. special operations forces recovered Bergdahl without incident early Saturday local time at a pickup point in eastern Afghanistan, near the border with Pakistan, a senior Department of Defense official told CNN. American officials said the government of Qatar brokered the deal.
The 28-year-old Bergdahl spent five years in the hands of Afghan militants. Questions surround just how and why he disappeared. In addition to undergoing medical treatment, he is expected to be debriefed at Landstuhl.
A reporter asked Hagel Sunday whether Bergdahl had left his post without permission or deserted -- and, if so, whether he would be punished. The defense secretary didn't answer directly. "Our first priority is assuring his well-being and his health and getting him reunited with his family," Hagel said. "Other circumstances that may develop and questions, those will be dealt with later."
A senior Defense official said Bergdahl's "reintegration process" will include "time for him to tell his story, decompress, and to reconnect with his family through telephone calls and video conferences."
Bergdahl will likely go to Brooke Army Medical Center in San Antonio after he leaves Landstuhl. It's unclear whether his parents will see him first in Germany or Texas, a Defense official said.
'He was never forgotten'
Obama, flanked by Bergdahl's parents at the White House on Saturday, praised the diplomatic officials and troops who helped secure Bergdahl's release.
"While Bowe was gone, he was never forgotten," the President said.
His father spoke a few phrases in Pashtun, saying that his son is having trouble speaking English after his captivity in Afghanistan, according to a military press service.
"The complicated nature of this recovery will never really be comprehended," his father said.
A senior Defense official confirmed Bowe Bergdahl is having trouble speaking English but the reasons for that were not clear, given the trauma he's been through.