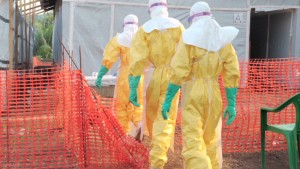 Health officials in Nigeria and Saudi Arabia on Wednesday reported deaths of citizens they suspect were infected with Ebola, and Spain said it will accept a patient from the West African outbreak, adding to concerns about the spread of the deadly virus.
Nigeria reported that a nurse died after treating someone believed to have contracted Ebola in Liberia, and Saudi Arabia reported that a man died, apparently of the virus, after a trip to Sierra Leone.
The World Health Organization did not immediately confirm the deaths.
A Spanish priest who contracted the disease in Liberia will be flown to Madrid and become the Europe's first patient from this outbreak, according to the Spanish government.
HO said Wednesday that 932 deaths had been reported or confirmed as a result of Ebola through Monday. That number -- up from 887 reported just two days ago -- does not include the latest death in Nigeria or the death in Saudi Arabia.
Nearly all of those deaths have been in Liberia, Sierra Leone, and Guinea, where more than 1,700 cases have been reported, according to WHO. The agency said 108 new cases were reported between Saturday and Monday in those countries and Nigeria.
The nurse in Nigeria had helped care for a Liberian-American man (Patrick Sawyer) who had died in Nigeria after traveling there from Liberia, Nigeria's Ministry of Health said Wednesday.
How an Ebola outbreak can start, and end
Nigeria has confirmed another five cases of Ebola, the Health Ministry said.
The Saudi man died Wednesday at a specialized hospital in Jeddah, the Saudi Ministry of Health said.
He had been in intensive care since late Monday "after exhibiting symptoms of viral hemorrhagic fever following a business trip to Sierra Leone," the ministry said in a statement.
Spain's Ministry of Defense is using a medically equipped Airbus A310 to bring Brother Miguel Pajares to Madrid, where he will be treated at Madrid's La Paz hospital, Spanish officials said.
In the United States, two patients are being treated at Emory University Hospital in Atlanta: American doctor Kent Brantly and Nancy Writebol, who had been in Liberia. Emory is one of four U.S. institutions capable of providing such treatment.