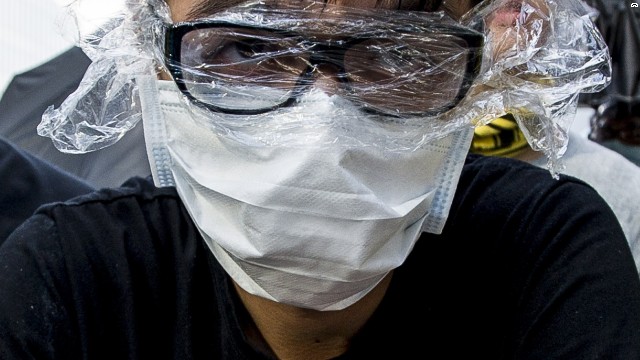 Protesters taking part in pro-democracy demonstrations in Hong Kong said Saturday they would continue to occupy an area outside the government headquarters indefinitely until detained student activists are released.
The protesters also demanded to speak directly to Hong Kong's leader, chief executive C.Y. Leung.
A mass rally is due to take place at 8 p.m. (8 a.m. ET) outside the government headquarters in the Admiralty area.
Hong Kong Youth Demanding Democracy Hong Kong democracy protest Hong Kong students rally for democracy
Thirteen student activists, including 17-year-old leader Joshua Wong, were arrested by Hong Kong police overnight, as the demonstrations took a heated turn. Authorities said those arrested ranged in age from 16 to 35.
Police said that after issuing warnings, they used pepper spray on a group of protesters who stormed a fenced area outside the government headquarters, at the climax of a day which saw high school students join a weeklong boycott of classes by university students.
Another 61 people, aged between 17 and 58, were arrested on Saturday afternoon "for forcible entry into government premises and unlawful assembly," Hong Kong police said.
A 27-year-old man was also arrested for possession of offensive weapon, police said.
Teenage leader
Yvonne Leung, spokesperson for Hong Kong Federation of Students, said that Wong, the student movement's most prominent leader, was among those detained on Friday.
She told CNN the students were unhappy that the city's leader had not granted them an audience.
In a statement, the Hong Kong government expressed regret over the incident, which it said resulted in injuries to security personnel and others.
"While the public meeting participants kept claiming that it was a non-violent and peaceful public meeting, they forced entry into the forecourt leading to injuries," the statement said. "All along (the government) respected the public's freedom of expression and freedom of assembly."
The protest capped a campaign involving classroom strikes and sit-ins. It was the biggest flare-up in street protests since Beijing ruled out free elections for Hong Kong in August.