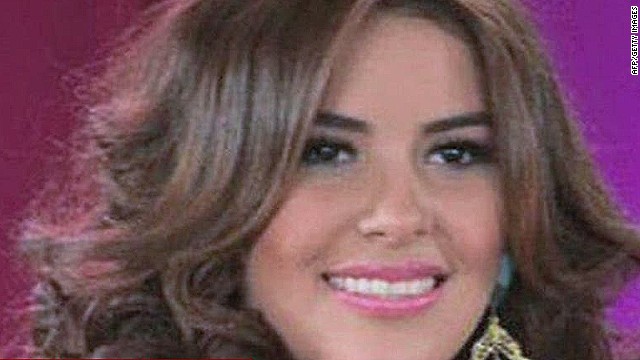 A Honduran beauty queen and her sister were found dead Wednesday, police said, and the sister's boyfriend and another man have been arrested.
The bodies of María José Alvarado Muñoz, the reigning Miss World Honduras, and her sister, Sofia Trinidad Alvarado, were found buried in a shallow grave in a mountainous area beside a river, Honduran authorities told CNN affiliate Televicentro.
The bodies of the sisters, who had been missing for several days, were found on top of each other, Santa Barbara Mayor Juan Alvarado told the outlet.
Plutarco Antonio Ruiz Rodriguez and Aris Valentin Maldonado Mejia are now in police custody, and investigators believe more people are involved in the sisters' deaths, Police Deputy Commissioner Rolando Casco Torres told Televicentro.
The sisters disappeared Thursday night after going to a spa for a birthday party for Ruiz in Santa Barbara, northwest of the capital of Tegucigalpa, police told CNN en Español.
Ruiz is suspected of killing the two sisters, said Leandro Osorio, chief of the National Bureau of Criminal Investigation.
Ruiz also "is considered the person who was most in contact" with the victims, Casco added, according to Televicentro.
Edgardo Casana, a congressman from Santa Barbara, said the two women, their other sister and Ruiz were all students of his when they were younger. In fact, Casana, a teacher, said he knew the three sisters' family well, and that Ruiz was also in a youth soccer league with Casana's children, he said.
"I'm dismayed by what happened," Casana told the CNN affiliate.
As a boy in Casana's class and in the soccer league, Ruiz was temperamental but also quiet, humble and gentle, Casana said. Ruiz's nickname was Paco, the official said.
In fact, Casana just saw Ruiz on Monday in Santa Barbara, the congressman said.
"We talked about soccer," Casana said.
Alvarado, 19, was supposed to leave for London soon to participate in the Miss World pageant, police said.
Their family reported the women's disappearance on Saturday. Their mother, Teresa Muñoz, initially believed her two daughters were kidnapped.
Eduardo Zablah, director of the pageant in Honduras, told Televicentro that Alvarado and her sister were last seen getting into a vehicle after attending a party last week.
The young woman was to be among the contestants from more than 120 countries who arrive in London this week for early rounds of the Miss World pageant. The final round is scheduled for December 14.