1964 Ferrari 250 LM Coupe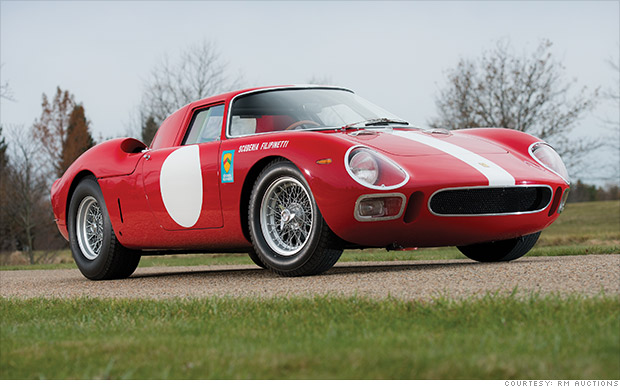 Sold by: RM Auctions
This was the ninth of 32 of this particular model built and it has a long racing history. It's powered by a 320 horsepower V12 mounted behind the seats. It was also the most expensive car sold at all of last week's Scottsdale, Ariz., collector car auctions. In fact, it was the most expensive car ever sold at these auctions.
And, with that, here are the rest of the top 11 auction sales at Scottsdale last week. (There was a tie for 10th place.) Most prices shown in this gallery include a 10% "buyer's premium," a fee paid the auction house.
One thing you'll notice is that most of these cars are from one manufacturer: Ferrari. At the top end of the collector car market, you see Ferraris more than anything else. And Ferraris with competition history, like the first two in this gallery, are the most valuable.
1966 Ferrari 275 GTB Competizione Coupe

Price

: $9.4 Million

Sold by

: Bonhams

This was the second-to-last GT car ever made by Ferrari's factory competition department. It had a strong race record including winning in its class in the 24-hour LeMans endurance race in 1967.
1959 Ferrari 250 GT LWB California Spyder

Price

: $7.7 million

Sold by

: Gooding & Co.

This was one of 50 long wheelbase (LWB) California Spiders built. This was the first time this particular car had been available for sale since 1969.

It's coming into a collector car market in which Ferrari prices are just now starting to level off after rising steeply the last couple of years, according to the Hagerty collectible car pricing guide. Still, prices show no signs of going down any time soon.
1966 Shelby Cobra 427 "Super Snake"

Price

: $5.1 Million

Sold by

: Barrett-Jackson

This 800 horsepower car was owned and driven by Carroll Shelby himself. One other was built for the comedian Bill Cosby who drove it just once before selling it. That car was later destroyed in a fatal crash. This car was part of the collection of real estate developer Ron Pratte. There were the only two non-Ferraris in the top 11.