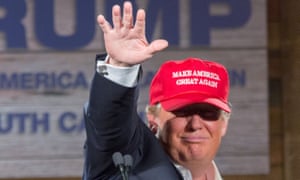 Campaign disclosures reveal billionaire candidate gave himself a huge loan, but high-paid hipster hat-maker – staffed by Latinos – displays a deeper irony
The billionaire mogul-turned-presidential candidate Donald Trump lent his own campaign more than $10.8m in a loan that amounts to a bet on himself, government-mandated disclosures revealed on Sunday. His campaign also appears to have spent well more than $325,000 on those "Make America Great Again" hats.
It was almost the top reveal of a last-minute bid for transparency required by the Federal Election Commission (FEC), as the deadline for the final 2015 reports on donations and financing ran up against the morning of the first 2016 voting day of the campaign for the White House.
The disclosures led to all sorts of fascinating insights into the campaigns: Jeb Bush's average donations per day plunged along with his poll numbers, from more than $500,000 to less than $90,000 over the course of October, November and December 2015. A Super Pac associated with Hillary Clinton spent $300 on shredding, and got millions from the billionaire George Soros.
But perhaps most interesting of all – at least to the casual campaign observer who may have grown used to the piles of outside spending as Monday's Iowa caucuses approached in earnest – was the disclosure that the Trump campaign spent $326,699.85 during the final quarter of 2015 with one company on "hats".