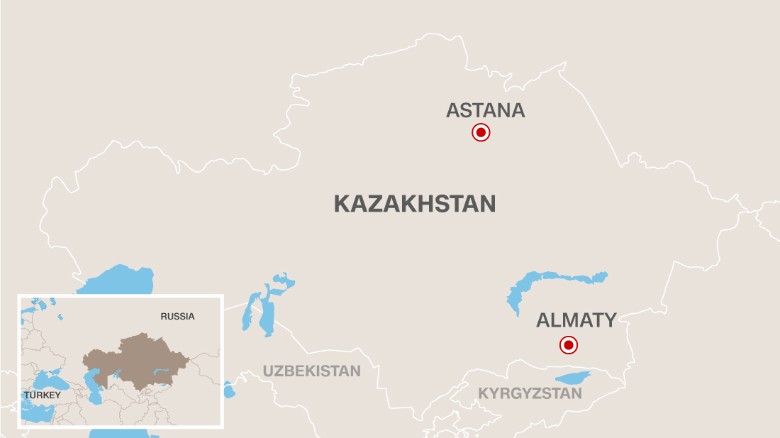 An anti-terror operation is underway in Kazakhstan's largest city after gunmen targeted government buildings, killing four people -- including three policemen.
At around 11 a.m. local time (1 a.m. ET) on Monday morning, unidentified attackers attempted to break into the interior ministry building in the center of Almaty. A police officer was shot and killed in the process, the interior ministry said in a statement reported by Russia's TASS news agency. The ministry said a district police department and the building that houses Kazakhstan's National Security Committee were also attacked.
Two more policemen were shot as they pursued the gunmen. They were later confirmed dead, the ministry said, according to TASS. A civilian also died after one attacker attempted to steal his car.
Local press reports quoted witnesses as saying they'd heard numerous gun shots.
It was not immediately clear who was behind the attack or the exact number of perpetrators, but the ministry's press service said one of the gunmen has since been detained by the police. No further details were given.
Kazakh President Nursultan Nazarbayev called Monday's attack "an act of terrorism" and ordered security to be increased across the country.
Russia's Interfax news agency quoted an Almaty police source as saying "a religious radical and probably a follower of non-traditional Islam was on the rampage" in the city. But unlike many of its neighbors, Kazakhstan has rarely experienced attacks internally by extremist groups.
Red alert
A tweet from the U.S. Embassy in the capital, Astana, advised its citizens in Almaty to stay in doors. A travel advisory from Britain's Foreign Office reported incidents at four separate locations in Almaty, adding that Kazakh authorities had now raised the security threat level to red -- its highest level.